Stephen Wade CJDR is a Certified Agriculture Dealership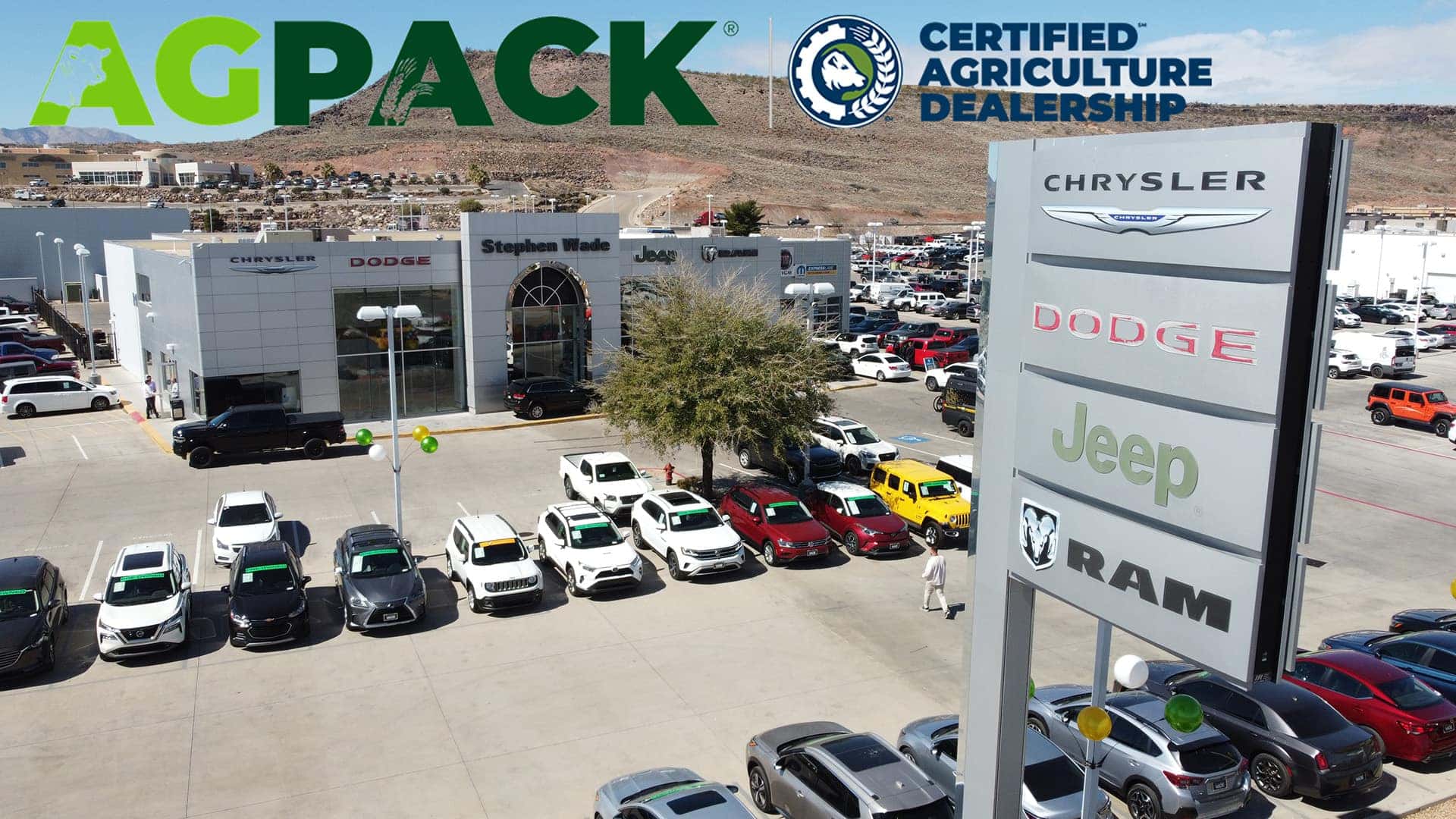 Farmers and ranchers know the importance of a good truck. A truck is the tool you use to haul hay out to the cows before dawn; To tow the trailer carrying the tractor out to the alfalfa fields in the morning; And to pick the kids up from school in the afternoon.
A good truck is a tool you just can't live without. 
When it comes time to find a new truck, you want a reliable tool that will last and you want to know you're getting the best bang for your buck. You want to know it's a truck that can handle what you'll need to throw at it. And you want to know you paid a fair price.
Fortunately, the Certified Agriculture Dealership and AgPack Program from agtrucktrader.com makes it easy for you to find a dealer who knows your needs – and at the same time can provide you with a whole host of discounts and incentives when you purchase a new or used truck for your farm or ranch. And here at Stephen Wade Chrysler Jeep Dodge RAM we are proud to be a Certified Agriculture Dealer.
 What does buying a truck from a Certified Agriculture Dealer get you? It gets you quite a lot.
To start with, you get the knowledge that the dealer you're working with knows agriculture. According to agtrucktrader.com, "Certified Agriculture Dealerships aren't here to just sell you a truck. They're here to provide your farm or ranch with a business solution, built around your truck. As an agricultural based business, you rely as much on hard-working trucks as you do astute business practices. Know this, your local Certified Agriculture Dealer stands ready to be a trusted resource.
Certified Agriculture Dealerships know farming and ranching. Their staff has successfully completed special agriculturally focused training to become a Certified Agriculture business. And only Certified Agriculture Dealerships offer AgPack: a special package of cost-saving rebates and discounts that deliver value only farmers and ranchers can truly appreciate."
In addition to getting a knowledgeable sales team from your Certified Agriculture Dealership, you also get a whole lot of amazing discounts on all kinds of valuable items, including the vehicle you're purchasing!
To start with, you get amazing pricing on the truck you came to buy in the first place. There are deals you can get through a Certified Agriculture Dealership that you can't beat anywhere else. And the Ag Pack program not only applies to new RAM Trucks, but it can also be used on the purchase of a pre-owned truck as long as the truck is no older than 5 years of the current model year and has under 75,000 miles.
But wait, that's not the only discount you get! There is a very long list of discounts, rebates and credits you'll be able to take advantage of after your vehicle purchase.
Here's the current list:
If you've read this far, we've probably sold you on taking advantage of the fact that Stephen Wade Chrysler Jeep Dodge RAM is a Certified Agriculture Dealership… so what's the next step, you ask?
Simple! Follow the instructions below!
How to get Your AgPack Bundle
1. Register for your AgPack® ID Number at AgTruckTrader.com
2. Provide your AgPack® ID Number when ordering or purchasing any qualifying new or used truck at any Certified Agriculture Dealership
3. Redeem your options! Approximately one week after your order or purchase, an AgPack® Redemption Specialist will help you redeem any of the over $30,000 in additional valuable options with AgPack® Partners.