What Dodge Durango is right of you?!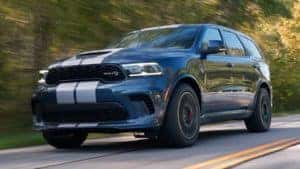 At Stephen Wade Chrysler Jeep Dodge Ram and Fiat, we have a wide variety of vehicles that are perfect for your family. Today we want to focus on the Dodge Durango. The Dodge Durango comes in a variety of different trims including a limited edition HellCat version. In this blog we will go through each trim of this seven passenger SUV so you can find the perfect one for you and your family.
The Standard trim is the SXT with a starting MSRP of $32,245. With this Durango you have the option of an All Wheel Drive or a Rear Wheel Drive, drive train. The All Wheel Drive option comes in at about $2,500 more but it all comes down to your preference. This SUVs comes with a 3.6L Pentastar V6 that provides plenty of horsepower. This engine comes standard with a 8 speed automatic transmission. When it comes to interior design, the Durango SXT has a five seat cloth interior with the option of adding a 3rd row of two seats, making it a seven passenger vehicle. The SXT comes equipped standard with 18" aluminum wheels that are ready to take on the journey ahead of you. After the SXT you have the SXT plus, which is just a premium version of SXT.
The Dodge Durango GT also comes with the option of going with the All Wheel Drive or the Rear Wheel Drive, drive train and again this will ultimately affect the price. The starting MSRP of the Durango GT is $36,240 (Rear wheel drive) with the All Wheel Drive option coming in at $2,600 more at $38,640. Both options are great and again it is all down to preference. However, if you live here in beautiful St. George you're probably fine going with the Rear Wheel Drive option.
When it comes to the engine you get the same one as the SXT, the 3.6L Pentastar V6. With the interior you get the option between a black or tan cloth. It also comes with the 3rd row back seats standard, so when you buy the Durango GT trim it's already a seven passenger SUV.
This also comes standard with the 8.4" Uconnect display and infotainment screen.
With the Durango GT you do have a good variety of options to upgrade your vehicle. You can add a sunroof, blind spot detection and an array of other items that will make your trip a lot enjoyable.
After the Durango GT you have the Durango GT Plus that comes with a bit more upgraded features. We are going to skip that one and talk about the Dodge Durango RT.
The Durango RT is when we start to getting into the trim options with more and more standard features. However, like the SXT and the GT you still have the option to choose an All Wheel Drive or a Rear Wheel Drive. The Starting MSRP of the Durango RT is $45,595 and again this is the Rear Wheel Drive option but for $48,195 you can get the All Wheel Drive drivetrain. Different from the previous trim this trim's exterior looks a little different featuring a functional hood scoop, but that's not where the differences end though. Lets go under the hood to talk about the engine. The Durango RT has a 5.7 L V8 Hemi that puts out more than enough power.. But if you want more power, wait till we get to the Durango SRT HellCat.
The Interior features a leather black suede interior with red stitching that adds a bit of an aggressive look to the driver and passenger's seats. You can also upgrade these seats to full leather with an option of black, red, or grey. This durango also comes standard with the 3rd giving you a total of 7 seats. You also get a 10.1" Uconnect infotainment display screen where you can access all of your favorite driving apps. You also have the option to add Uconnect rear DVD entertainment display screens on the back of the passenger and driver's seats. When it comes to add ons you have a variety of features you can add to your Durango RT such as a 19" Subwoofer for that extra bass. You can also add carbon fiber accents in the interior, as well as blind spot and cross path monitoring. There are plenty more options you can add if you are interested. You have a couple of trims in between the Durango RT in our previous blogs.
Last but certainly not least is one of the most anticipated SUVS on the market, the Dodge Durango SRT HellCat. This thing is a beast! Unlike the other trims, the Durango SRT HellCat only comes in an All Wheel Drive option with a starting MSRP of $80,995. The exterior has 20" wheels with the option of black and silver or just black. This Duragno also features the same functional hood scoop, but under the hood is where the difference really is. The Durango SRT HellCat is equipped with a 3.6L Supercharged V8 that puts out a whopping 710 Horsepower. If you are looking for an SUV with power, I think you just found it. When it comes to the interior it comes standard with high performance suede and leather seats. You do have the option of going with all red leather seats. It offers the same 10.1" Uconnect navigation infotainment display as the Durango RT. You also have a wide variety of options to add to your Durango SRT HellCat such as the black package which features aggressive black accents, a 19" subwoofer, and even red seat belts. But don't worry, there are a lot more things to add to your Durango to make it your own. So whether you're looking for the Durango SXT or the SRT HellCat there is something for you. Come to Stephen Wade Chrysler Jeep Dodge Ram and explore our vast inventory of new, used and certified pre-owned vehicles where there is something for you and where you can ask our knowledgeable staff any questions you may have about these vehicles.
Stephen Wade Where you got it made.